Milk Kefir – is a fermented dairy drink filled with loads of good bacteria called probiotics. It originated roughly 2,000 years ago in the Caucasian Mountains between Europe and Russia, which makes kefir one of the oldest milk ferments in existence. Kefir is a wonderfully delicious slightly carbonated fermented milk beverage similar to yogurt (or buttermilk).
Due to numerous probiotic bacteria this fermented dairy drink has many wonderful health benefits, a great flavor and is also usually tolerated well by the lactose intolerant. It's much easier to make than yogurt, and kefir has a much larger spectrum of probiotics than yogurt. The reusable, sustainable grains also make it more economical. The popularity of this trendy drink is growing rapidly but it's quite pricy like kombucha.
Here are some of the health benefits of milk kefir: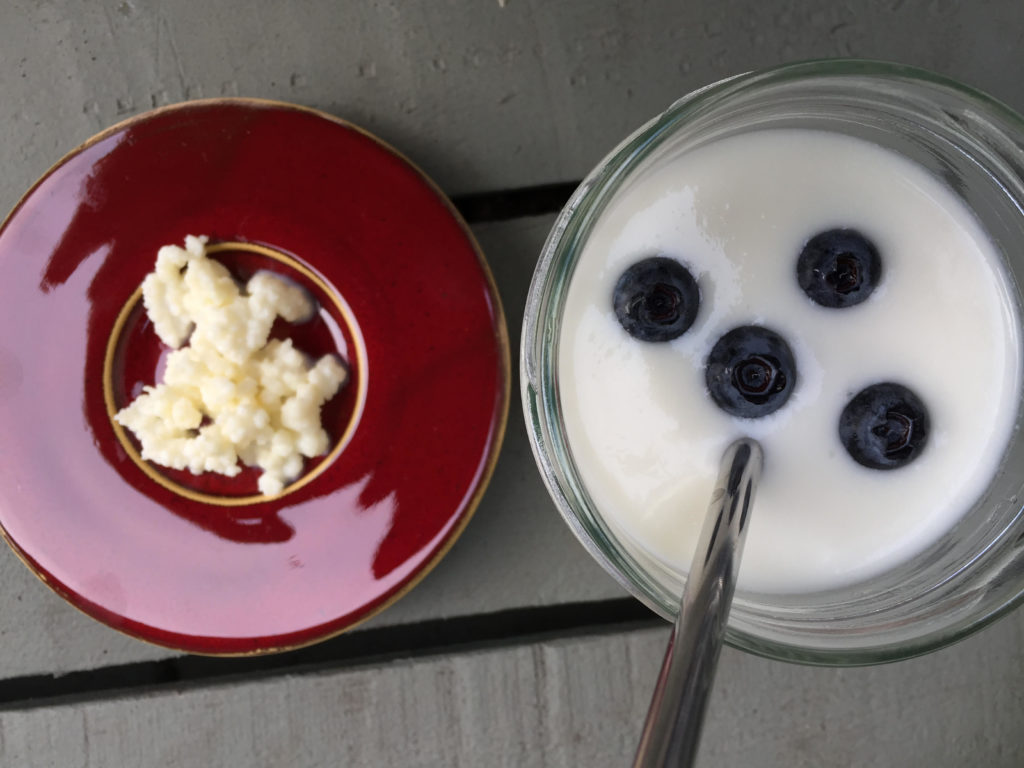 Here is what you need and how to make it.
Equipment:
Ingredients:
Milk Kefir Preparation Method
Clean the surface first to make sure kefir grains don't get contaminated by the bacteria from the environment. Advice from a microbiologist 🙂 I don't like using toxic chemicals therefore I clean my surfaces with cloth and water.
Pore milk in a glass jar.
Add the grains into the milk using clean spoon. You can use as little as 1 tsp and as much as 1 tbsp. The more grains you will use the more sour it will turn out. So you can experiment with the amount of grains you prefer. They will be multiplying pretty quickly, therefore you can store the extra in refrigerator covered with milk or share with a friend.
Cover the jar with a cheese cloth, coffee filter or any other tight-woven but breathable towel or and secure with a rubber band.
Leave the milk with grains to ferment at room temperature for 24 hours. This stage is also called – feeding the grains. The grains are feeding on the lactose present in the milk
Mix the mixture of fresh kefir and the grains. The mixture can be as thick as the sour cream. Be gentle to not smash the grains.
Strain the grains using the fine mesh strainer. You may need to mix the mixture gently with the plastic spoon while straining because the mixture is pretty thick.
Cover the jar with a cheese cloth, coffee filter or any other tight-woven but breathable towel or and secure with a rubber band.
Repeat from step 1. Place the strained grains into fresh cold 0.5 milk jar.
The strained kefir drink is ready to drink or place it to the refrigerator.
Enjoy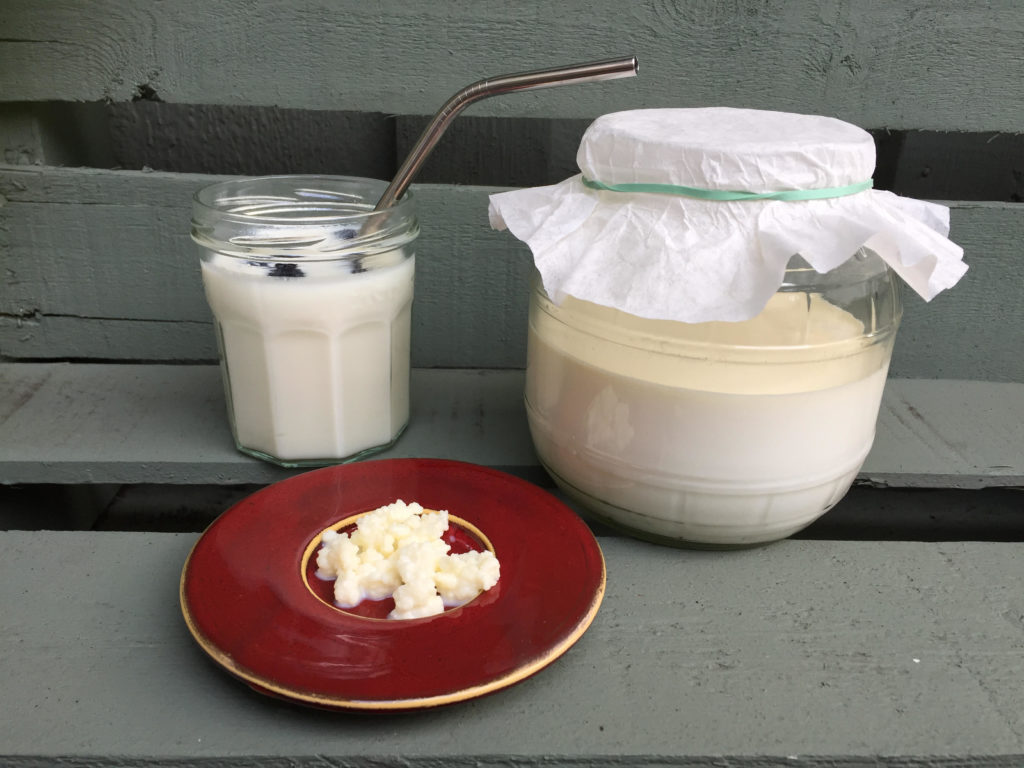 Recipes
Recipes about how to make smoothies with kefir, home made cottage cheese and "syrniki" (cottage cheese fritters) are coming soon on my blog.