Host Your Own Kombucha Workshop
Would you like to learn all about kombucha and how to make it safely at home? Then invite your friends and I will come to tell you all about it. Equipment and Ingredients to take home are included in the cost of the class.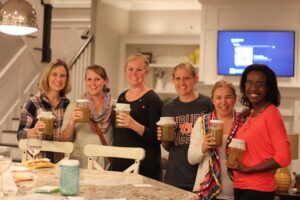 "I really enjoyed the class. I much preferred a night of learning something cool and physically doing something with friends to a night of shopping in someone's home. I've been really wanting to try kombucha, but I was never going to find the time to do all the research by myself and then try it without some guidance. This was perfect, because it was a scheduled and fun way of learning hands on! I would definitely recommend this to friends"  

by Leah Freshwater
Product Description
Why pay $4 a pint for kombucha? Learn how to do it Yourself in this workshop!
Learn all about kombucha (a fermented tea beverage) and why fermented foods are so good for you!
This class will cover overview on human gut microbes, probiotics (and why they are good for you), kombucha and how to make it safely at home, as well as directions for secondary flavoring. You will also be able to sample various seasonal kombucha flavors!
We will make the first fermentation that you can try within the first week, and you will take home directions on how to make a fizzy second fermentation yourself!
Here is what is included in the option:
Class and Kit ($43.00 per person):
Participants receive their own live ready to use SCOBY (Symbiotic Culture Of Bacteria and Yeast), mason jar, rubber band, filter, all ingredients (organic tea and sugar), starter liquid and a handout with brewing instructions to take home.  I also offer full follow-up support via phone or email to ensure your brewing success!
2-4 Tasters of Kombucha
Please contact me via email if you have an interest in hosting a class. Looking forward to working with you.